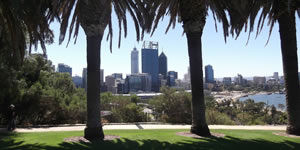 Visiting Perth for New Years Day can provide for great ideas of things to do! That is as long as you have recovered from the epic night before. It is Summer in Perth on the first of the first and recovery is what it is all about for a lot of people. And then there is also the party set that would like to continue to welcome in the new year.
Perth has super parks and outdoor areas aswell and beaches and the mighty Swan River.
Whatever your wants Perth will have it so enjoy and have a Happy New Year!
New Year's Day Ideas Guide for Perth
Kick off New Year's Day in Perth with some time out, some food and even a drink. It's a cracking way to start the New Year in the West!
Rottnest Island

New Year's Day on Rottnest Island

Get out of Perth even further to the West and a short ferry ride to one of Australia's gem island. With so much to do including bike riding, walking, swimming, relaxing and heaps more, your New Years Day will be filled to the brim. Come and see the Quokkas and start the year right!

WA's Favourite Island

Website

NYD Escape to the Vines Resort

You can exit Perth to the East just out of town is the Vines Resort. Golf, swimming and all sorts of resort activities. Boasting great dining options and you may want to stay overnight with one of the 7 Sins packages on offer. Whatever you do at the Vines Resort you will be starting the new year the right way! Just enjoy!

Website

|

Email

NYD at the Aviary

Hello! So many options at the Aviary. Are we in the Birdcage or on the Rooftop? Did you want to dine or just have some casual drinks and hit the beats.  The Aviary is central to Perth CBD and is always hip to the beat on NYD. A very friendly crew who will help you leap into the new year feet first.

Website

|

Email

New Year's Day

A fabulous pub that has only recently been restored in all it's glory! Dining is awesome and they always have drinks specials. And we expect that kicking off the new year will be no different. So get your crew out and about and mull over the year that has past and what might lie ahead in the exciting new year!

Website

|

Email

NYD Lunch at the Globe

Start the new year right by enjoying the ambience of the Globe. You can migrate from the different areas of this venue. Like the Lounge to the Bar and onto the Lane as you feel you need to on your first day of the new year. And treat yourself to one of their menu specials for lunch!

Website

|

Email